Engineering Machinery and Services Ltd bring to you the Hypertherm – MAXPRO200 plasma cutting system which achieves impressive cut speeds, consistent cut quality and exceptional consumable life with air or oxygen plasma gas. Optimized cutting parameters are automatically set and controlled in one step for easy operation.
Engineered for heavy-duty, high capacity mechanized and handheld cutting and gouging, the MAXPRO200 delivers reliable performance across a wide range of industrial applications
Low operating cost
Exceptional consumable life and consistent performance deliver more cost-effective results.
Do more with less power: patented consumable designs enable best in class cut speeds and robust production piercing using lower amperage levels.
Superior cut quality and consistency minimize high cost secondary operations.
Advanced consumable technologies including LongLife®, CoolFlow™ and TrueFlow™ significantly increase consumable life to reduce cost per part.
Maximized productivity | Hypertherm Maxpro 200
MAXPRO200 combines fast cutting speeds and quick process changes to maximize productivity.
The fastest cut speeds in its class produce more finished parts per hour.
Engineered with 100% duty cycle for the most demanding production environments.
Quickly transition between cutting, gouging, mechanized and handheld processes with automatic settings, tool free leads and quick disconnect torches.
Hypertherm | Maxpro200 | Engmach.ie
Plasma Specialists Ireland – Maxpro 200 | Hypertherm
Designed to meet the need for quality and economical thermal cutting, LineaTech PRO offers various possibilities for applications such as flame cutting, plasma cutting and marking. LineaTech PRO is a longitudinal twin motors with brushless motors and digital drives. The movement is achieved by mating rack and pinion and floating device and preloaded spring.
Easy operation
Optimized cutting parameters are automatically set and controlled in one step to deliver consistent results without operator intervention
Advanced diagnostics simplify troubleshooting and service
Optional serial communications allow full control of the system from the CNC
---
Low operating cost
Patented consumable designs enable best in class cut speeds and robust production piercing using lower amperage levels
Advanced consumable technologies including LongLife, CoolFlow™ and TrueFlow™ significantly increase consumable life to reduce cost per part
Longer consumable life = more cost effective
12 mm (1/2″) mild steel
200 A Air/Air, 30 m (100′) leads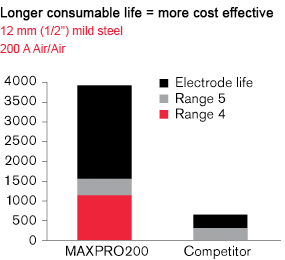 ---
Industry-leading reliability
Robust, simple system architecture with 50% fewer parts than most competitive systems
Best-in-class manufacturing and extensive testing ensure that every Hypertherm system meets the highest quality standards
STANDARD 
EQUIPMENT
Hypertherm MicroEDGE ® Pro CNC

17'' LCD industrial type touch screen
Hypertherm operator panel
Safety module input and output
Hypernet communication system
Remote connection interface
Phoenix interface
Metric and inch gauges.

HyPerformance® MaxPro200 plasma source
Hypertherm automatic gas console
ERMAK THC automatic height control system

Safety input-output interface module
Nozzle sensor
Collision sensor
200 mm standard stroke
Laser Pointer

TurboNest® Cad/Cam software
3 Axis (X,Y,Z)

3 pieces Mitsubishi AC servo motor and driver
3 pieces planet type Neugart gear box
High accuracy linear rails
High accuracy an silent Atlanta Helis rack and pinion
X,Y, Z Axis Igus brand silent cable tray

Cutting table with pneumatic system
Moving control panel system
2 Emergency buttons
6 Mechanical stops